HISTORY
Park Avenue Bakery has been a Helena staple for over 25 years. While Park Avenue first opened its doors in 1995, the smell of fresh baked bread has resided in the building for much longer. Located in downtown Helena, Park Avenue Bakery is housed in a portion of the same building where the historic Eddy's Bakery was located in the 1930s. Eddy's Bakery was a thriving business fully equipped with a large brick oven that once cranked out 2,000 loaves a day and sold for three cents a loaf. That same tradition of making bread from scratch with quality ingredients continues today.
In 2004, John and Renee Kowalski became Park Avenue Bakery's third owner. Since then they have sought to continue the European style bakery tradition that the Helena community so greatly loves. In 2013, Park Avenue Bakery took the business to the next level by investing in a new Italian steam deck oven. This purchase allows the bakery to continue providing high quality European style bread to the community with greater efficiency and ease.
OUR VALUES
Our customers and employees deserve the best.
Our customers deserve the best products and services we can offer. That's why we make our breads, desserts, and foods with the finest ingredients we can find. That's why we hire exceptional staff, train them well, and offer them professional development and compensation packages.
We're not just a business, we're part of the Helena community.
Philanthropy is an important part of our business. That's why Park Avenue Bakery supports local organizations concerned with those most vulnerable among us—animals and children—as well as the environment and the arts. Through our funding or in-kind gifts we show our appreciation for the wonderful work of organizations like Lewis and Clark Humane Society, Florence Crittenton Home, The Friendship Center, Big Brothers/Big Sisters, Holter Museum, Prickley Pear Land Trust, Carroll College, Grandstreet Theater, Cohesion Dance, Archie Bray Foundation, and the Myrna Loy Center.
Sustainability means practicing what we preach.
We believe in doing our part for the environment. Park Avenue Bakery recycles all of its newspapers, cardboard, cans, plastic and glass. We use eco-friendly packaging for all our take-home products and we compost all of our organic refuse.
Our history must influence our present and inspire our future.
We are proud to continue Helena's history of baking bread by being housed in the old Eddy's Bakery building. We are also connected to the long European tradition of community cafés and the making of artisanal breads and fine pastries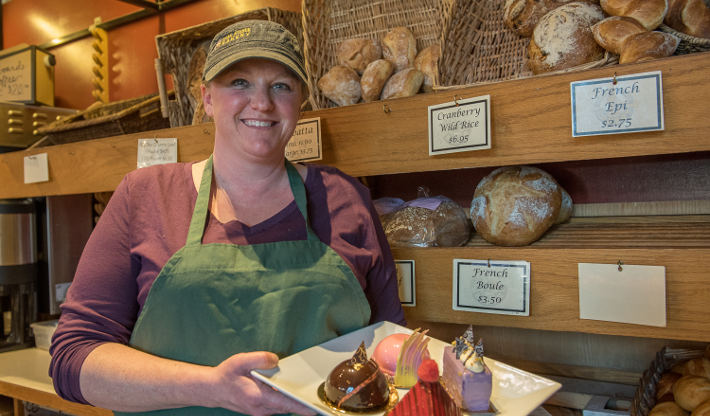 MELANIE HAHLBOHM
Melanie Hahlbohm is a Helena native who joined the Park Avenue Bakery team in 2014. After earning her Baking and Pastry degree from Le Cordon Bleu, Melanie interned alongside World Chocolate Master, Chef Oscar Ortega in Jackson Hole, Wyoming. She went on to work with Ortega for an additional four years after her internship. She also served as Head Pastry Chef at Shooting Star Jackson Hole for two years before moving back to Helena. Since joining the Park Avenue Bakery team, Melanie has strived to raise the bar—bringing new life to the dessert case and improving upon some of our classics.