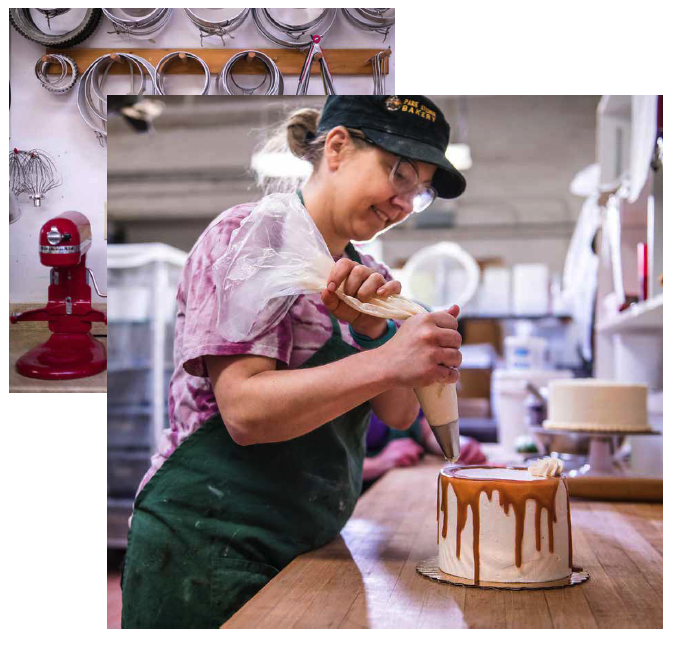 Delicious and decadent
Park Avenue Bakery offers an extensive selection of fresh-baked, decadent desserts and pastries that look as good as they taste. We bake our pastries from scratch daily using only the freshest and finest ingredients. Life is short so indulge your sweet tooth with one of our pastries today!
Desserts
Please contact us to see what is available. Some of these desserts are seasonal only or rotating.
Vanilla cake with blueberries and raspberries. Filled with a raspberry mascarpone mousse and finished with cream cheese buttercream. Topped with fresh blueberries and raspberries.
$30 - 6" $48 - 8"
Blue Raspberry Cake
We have a variety of cheesecake flavors including: lemon blueberry, raspberry white chocolate, vanilla, chocolate swirl, german chocolate, hazelnut latte, neapolitan, strawberry, key lime, pina colada, peach, oreo, pistachio, and lemon.
$5 IND $28 - 6"
Cheesecakes
Oatmeal shortbread crust topped with a chewy oatmeal peanut butter chocolate chip filling.
$3.00
Chocolate Chip Peanut Butter Bars
All of our cupcakes are filled with the exception of red velvet and carrot. Please ask a pastry chef about flavors that are currently available. Common flavors are: Red velvet, carrot, triple chocolate, lemon delight, raspberry lemon, chocolate raspberry, chocolate peanut butter, strawberry chocolate and german chocolate.
$2.75
Cupcakes
Chocolate cake infused with earl grey tea, filled with a creamy Earl Grey chocolate mousse. Covered with a dark chocolate ganache.
$6 IND $32 - 6" $53 - 8"
Earl Grey Cake And Individual Triangle
Rich flourless brownie with melted chocolate and cocoa powder, cinnamon and walnuts. We use cornstarch in place of flour.
$3.25
Flourless Brownies
A dense, rich, flourless chocolate cake made with dark chocolate, coffee and poured with dark chocolate ganache. Garnished with whipped cream.
$5 IND $28 - 6" $42 - 8"
Flourless Chocolate Decadence
Three layers of vanilla funfetti cake filled and iced with homestyle vanilla buttercream, finished with colored sprinkles.
Funfetti Cake
Moist chocolate cake filled with german chocolate filling made with pecans. Finished with german chocolate filling and piped with fudge icing.
$32 - 6"   $53 - 8"
German Chocolate Cake
Layered dessert with chocolate cake on the bottom, topped with salted caramel ganache, hazelnut mascarpone cream and dark chocolate mousse. Has chocolate covered crispy rice pearls inside. Finished with a chocolate glaze.
$6 IND $36 - 6" $54 - 8"
Hazelnut Caramel Delight
Shortbread crust topped with a fresh lemon curd filling and baked. Garnished with powdered sugar.
$3.00
Lemon Bars
Chocolate cookie crumb crust, topped with layers of dark chocolate ganache, Oreo milk chocolate mousse, Irish Cream chocolate mousse, whipped cream and crushed Oreos.
$6 IND $36 - 6" $54 - 8"
Mudslide Torte
Pistachio feuilletine chocolate crunch, pistachio cake, lavender cream, cassis gelee, cassis cream. Poured with a purple mirror glaze topped with lavender cream, crushed pistachios and lavender flowers.
$6.00
Pistachio Cassis With Lavender
Pumpkin cake made from house roasted pumpkin puree. Topped with cream cheese icing and sprinkled with cinnamon and sugar.
$3.00
Pumpkin Bars
Oatmeal streusel crust with raspberry filling and topped with the same streusel crust. Garnished with powdered sugar.
$3.00
Raspberry Crumble Bars
A pyramid filled with raspberry chocolate mousse, with a raspberry cremeux smaller pyramid inside with crispy pearls on a chocolate cookie covered with a raspberry glaze.
$6.00
Raspberry Pyramid
Red velvet cake – a vanilla/cocoa powder cake filled and finished with cream cheese icing.
$30 - 6" $48 - 8"
Red Velvet Cake
Dark chocolate ganache sandwiched between and oatmeal brown sugar shortbread crust and topping.
$3.00
Revel Bars
Shortbread cookie crust with salted caramel – milk chocolate ganache and sprinkled with sea salt.
$3.00
Salted Caramel Bars
Buttery shortbread crust with a coconut caramel layer drizzled with melted chocolate.
$3.00
Samoa Bars
House made ladyfinger sponge cake, soaked with espresso, kahlua and amaretto, layered with kahlua - caramel mascarpone cream, and chocolate shavings.
$6.00
Tiramisu
Rich cakey chocolate brownie topped with dark chocolate ganache and sprinkled with cocoa powder.
$3.00
Truffle Brownies
Very rich, fudgy brownie made with toasted pecans and house made kahlua caramel and chocolate chips.
$3.25
Turtle Brownies
Chocolate crumb crust, topped with dark chocolate ganache and creamy white chocolate mousse. Dusted with cocoa powder.
$5 IND $29 - 6" $42 - 8"
Tuxedo Torte
White vanilla cake filled with fresh lemon curd, lemon mousse. Finished with lemon buttercream and garnished with white chocolate shavings.
$6 IND $32 - 6" $53 - 8"
White Chocolate Lemon Delight Torte