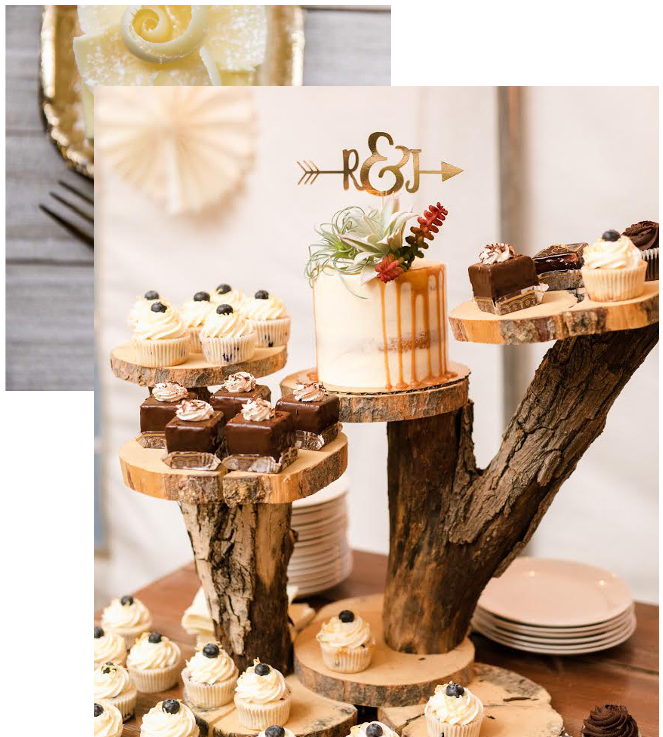 Made with love
The wedding cake is one of the most dramatic elements of a wedding reception. Let Park Avenue Bakery add a delicious and whimsical element to your wedding with a delicately piped wedding cake, cupcake display, or lavish dessert station. We believe that cake should be enjoyed by the taste buds AND the eyes. Our cakes and desserts are made from scratch with the freshest, most decadent ingredients. Choose from a variety of flavors for your cake, filling, and frosting to help us custom make your wedding cake and desserts. From silky buttercream icing and salted caramel ganache to chocolate mousse and raspberry mascarpone cream, the options are extensive and always delicious.
BASE PRICE FOR TIERED CAKE
Fondant Finish$7/servingButtercream Finish$6/servingLabor$25/hour
Service Sizes
6-inch: 12
12-inch: 40
8-inch: 24
14-inch: 64
10-inch: 28
16-inch: 80
¼ sheet: 30
price depends on flavor
½ sheet: 60
price depends on flavor
Cupcakes
$2.75 each
PIES
Serve 6–8
Fruit Pies
$24
Pecan
$28
Huckleberry
$34
Flavors & filling
WEDDING CAKE FLAVORS
Vanilla, Chocolate, Lemon, Strawberry, Red Velvet, Coconut, Lemon Blueberry, Blueberry Raspberry, Earl Grey Chocolate, Lavender, Carrot, Vegan Chocolate (requires 48 hour notice)
BUTTERCREAM FLAVORS
Vanilla, Chocolate, Raspberry, Strawberry, Lemon, White Chocolate, Coffee, Caramel, Peanut Butter, Coconut Almont, Huckleberry (extra charge and notice needed), Blackberry
OTHER ICINGS
Cream Cheese, Cream Cheese Buttercream (All flavors of buttercream available in this), German Chocolate, Fudge Icing, Earl Grey Chocolate
CAKE FILLINGS
All available as a mousse or straight filling: Chocolate ganache—dark or white, lemon curd, huckleberry, raspberry, strawberry, coconut, caramel, peanut butter, pastry cream
CUSTOM FLAVORS AVAILABLE
A dense, rich, flourless chocolate cake made with dark chocolate, coffee and poured with dark chocolate ganache. Garnished with whipped cream.
$5.00
Chocolate Decadence Cake
Three layers of moist almond cake, filled with raspberry jam, raspberry mousse, and while chocolate crispy pearls. Finished with coconut almond cream cheese buttercream and topped with toasted almonds and coconuts.
Coconut Almond Raspberry Cake
Hazelnut Caramel Chocolate Cake
Individual Mudslide Torte
White cake topped with lemon curd and lemon mousse. Poured with white chocolate lemon ganache and topped with white chocolate curls.
$5.00
White Chocolate Lemon Delight